49ers: Notes from Super Bowl loss to the Kansas City Chiefs
A tough offseason to swallow awaits the San Francisco 49ers after their Super Bowl LIV loss. Let's delve into this game and see what happened.
Well, that puts a bow on the 2019 NFL season, and unfortunately for the San Francisco 49ers, it's going to be a long layoff until next September after their 31-20 Super Bowl LIV loss to Patrick Mahomes and the Kansas City Chiefs.
There's a ton to unpack here with a bunch of thoughts on both the 49ers and Chiefs, so let's talk about the champs first and then segue to the Niners.
As it turns out, it was indeed Patrick Mahomes' year to notch his first (of possibly many) Super Bowls. It certainly didn't seem like it on paper for much of this year and even in this Super Bowl LIV matchup as the 49ers definitely had the edge on the Chiefs as an overall team.
The Chiefs also caught a lot of breaks this postseason as both Tom Brady (searching for his fourth-straight Super Bowl appearance) and the number one seeded Baltimore Ravens and league MVP, Lamar Jackson, were ousted early due to a "titanic" effort from the Tennessee Titans.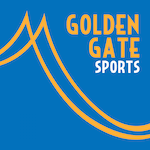 Want your voice heard? Join the Golden Gate Sports team!
Write for us!
When we look at the Chiefs' season as a whole, it didn't resemble the prototypical Super Bowl run that we've become accustomed to seeing. They weren't the best team in their respective conference nor were they a 9-7 Cinderella story.
They struggled at times and faced adversity when Mahomes was banged up in the middle of the year. They lost three-straight home games to the Indianapolis Colts, Houston Texans, and Green Bay Packers from Weeks 5-8 where Mahomes was even still active.
This was a team mid-year that was hobbling along with a terrible run defense (and defense overall) that wasn't clicking on the offensive side like they did last year when Mahomes won the MVP.
But once they barely scraped by the Los Angeles Chargers in Mexico City in Week 11, they never looked back.
They racked up five-straight wins from there out of their late-season bye week, earned the number two seed and a first-round bye after the Patriots choked in Week 17, and we all know the story from there.
My feeling on the Chiefs for 2019 was that they were good enough to stay at the top of the heap. Patrick Mahomes didn't put up his MVP numbers. But in the end, they caught a lot of breaks and were in perfect position to capitalize — and capitalize they did.
Mahomes at 24 years of age earns his first Super Bowl ring, which could be the first of many — maybe even more than the great Tom Brady when it's all said and done. Andy Reid finally breaks through and gets his first Super Bowl after two decades.
In the end, it was a good story and everything lined up perfectly for the Chiefs to win their first Super Bowl in 50 years.
As for the 49ers, it's not as happy of an ending.
In my heart, I had an eerie feeling Mahomes and Reid would pull this game out, but I just couldn't go against the 49ers with how dominant they were this year. They really played great in this game and took a double-digit lead into the fourth quarter.
But in the end, the play-calling of Kyle Shanahan let the team down and the performance of Jimmy Garoppolo didn't come through to clinch the win. This game went pretty much how I thought it would go.
San Francisco would take the reigns for most of the afternoon, but then they would have to stave off a Mahomes second-half rally and Garoppolo would have to step up, and that's actually what was the case.
Garoppolo and the 49ers had the ball late to go ahead and win the game, which is what I was banking would happen, but ultimately it just wasn't in the cards for the Niners this year.
The better quarterback came through for his team and now there's a ton of questions circulating as to whether or not the 49ers should stick with Garoppolo moving forward.
This is what was in the back of our minds the entire season with this Niners team. We feared all year long that it would be Garoppolo that would hold this team back with his proneness to the interception.
As it turns out, the turnovers finally caught up to the 49ers in the biggest game of the year (after two monumental Garoppolo turnovers) and now they sit as Super Bowl losers.
Kyle Shanahan got away from his bread and butter and put the game in Jimmy's hands while trying to hold on to the double-digit lead late in the second half, and once again he got bit in the Super Bowl.
Two years ago, the play-calling of the Atlanta Falcons with their big 28-3 lead facilitated the Patriots to come back in grand fashion and steal Super Bowl LI (Shanahan was OC of that Falcons team).
Now, a similar result has ensued as it's now the 49ers with Shanahan as the head coach that surrenders a sizeable lead to lose the Super Bowl.
Shanahan is the most innovative young head coach in this league with nothing but the world in front of him, but this is now two times he's been behind a Super Bowl collapse because of the offensive play-calling. Hopefully, he can make the adjustments necessary to ensure it doesn't happen again.
As for Garoppolo, I think it's easy right now to throw him under the bus and speculate whether or not the 49ers should keep him going forward.
I get it. It's fresh in everyone's minds right now that he didn't come through in the biggest moment and that his season was a bit shaky with the turnovers.
I must admit, it doesn't seem too crazy to want to make the switch-out and bring in Tom Brady from free agency in place of Garoppolo right now.
This is a young 49ers team that's primed to be in contention for a Super Bowl for at least the next 2-3 years if they keep everyone together and a Tom Brady under center playing for the team he grew up rooting for seems very appealing after what everybody just witnessed.
Right now, I don't know what the right move is because both sides have merit.
If you're the 49ers, you're going to be in Super Bowl contention for at least the next two or three years. Tom Brady plans to play until he's 45, so the timing lines up almost perfectly for a Brady-Shanahan match as Brady sits at 42 years of age.
The makeup of the team is also exactly what a Tom Brady would be looking for as a run-first offense with a solid offensive line and one of the best tight ends in the game.
Plus, it would be a West Coast match made in heaven as TB12 most likely wants to move out west after selling his Boston home.
The 49ers and Tom Brady would fit like a glove in my humble opinion. But is it worth the risk of losing Garoppolo who's going to be around longer and who you can continue to build your franchise around if you're the 49ers?
I don't know.
Personally, I would want Brady in the building to give me a better chance of winning a Super Bowl in the next 2-3 years as a proven champion, even at 42 years of age, rather than somebody who's turnover-prone and hasn't yet proven himself to be a championship-level quarterback.
But let's see how things shape up in the coming weeks. Maybe once things calm down and we can take a step back from this Super Bowl, it'll become more clear what the right move is to do with Garoppolo.
Finally, this Super Bowl made a pretty profound statement to me.
Not only was it a Super Bowl featuring two young quarterbacks and not the usual suspects we're used to seeing nowadays like Tom Brady, Russell Wilson, or Ben Roethlisberger, but it was also a Super Bowl that (I think) gave us a glimpse into the future of the NFL that's rapidly approaching.
By that, I mean the game is clearly moving in a direction of more high-powered offenses, decreased offensive line play, and the best athletes playing the quarterback position.
This Super Bowl was a battle of the new-school NFL (the Chiefs) and the revamped old-school smashmouth NFL (the 49ers), and new-school took the day.
They say offense wins games but defense wins championships. Well, it was just proven that an okay defense can be good enough to win you a championship.
So, does this mean we're going to start seeing the Big 12 manifest itself in the NFL now and 50-45 games will become the norm?
Only time will tell.