49ers still have problems with their passing game and wide receivers
The San Francisco 49ers still have a big problem with their wide receivers and overall passing game and Monday night's loss to the Seattle Seahawks was evidence of such.
The San Francisco 49ers made a concerted effort to beef up their passing game and wide receiver depth at the trade deadline with the acquisition of two-time Pro Bowler Emmanuel Sanders.
But after Monday night's disappointing loss to the Seattle Seahawks, it's clear that they still have a pretty big issue.
Now, this isn't a criticism of Sanders who has been nothing short of phenomenal since coming over to San Francisco. Sanders has hauled in 13 grabs for 161 yards and two touchdowns in around two-and-a-half games with the 49ers.
And this isn't a criticism of rookie Deebo Samuel either who had a career game on Monday bringing in eight catches for 112 yards — both career highs. But his big day was helped in part by the absence of Sanders who left with an apparent rib injury mid-game.
Sanders was one of a number of 49ers to come out of Monday's game with an injury and his loss would be devastating to an already thin receiving core. And we saw firsthand just how thin that core was on Monday night.
The usually sure-handed Kendrick Bourne had a number of passes go right through his hands including one that tipped off his gloves into the awaiting arms of Quandre Diggs for a third-quarter interception.
Second-year receiver Dante Pettis had a couple of key drops as well as the speedy Washington product continued his disappointing sophomore NFL campaign. Even veteran Marquise Goodwin had an unfortunate drop that would have set the 49ers up in a great position in the red zone.
Jimmy Garoppolo didn't do a great job protecting the ball on Monday night, but he certainly wasn't helped out by his receivers. And the same could be said for the offensive line that struggled mightily with the returns of Joe Staley and Mike McGlinchey to the starting lineup.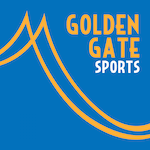 Want your voice heard? Join the Golden Gate Sports team!
Write for us!
Perhaps they weren't ready to return just yet, but Jadeveon Clowney and the Seahawks front-seven wreaked havoc on Garoppolo all night.
And all of this combined helps to highlight a bigger issue that the 49ers are facing.
Their defense — although showing cracks as of late — is still a dominant force that will hopefully carry this team far. And we've seen firsthand how effective the running game could be this year when running behind a healthy offensive line.
But the 49ers' Achilles heel continues to be their passing game. And while much of the blame will fall on the shoulders of Garoppolo, it certainly isn't all his fault.
Outside of Sanders and Samuel — neither of which are No. 1 options — the 49ers don't have another reliable receiver in the passing game. Sure, they absolutely missed George Kittle in this game and he's the top target when healthy, but their depth is a major concern.
Garoppolo is a serviceable quarterback who makes mistakes, sure, but he's proven that he could make the necessary plays when he has to — and he's still developing.
But unfortunately, he's not good enough yet to mask the deficiencies of his receivers. We could compare the 49ers with a team like the New England Patriots and find many similarities.
A dominant defense, a solid offensive line, and lackluster receivers. The Patriots have won with that formula for years because they have an offensive system designed to maximize the talents of their receivers.
Kyle Shanahan does exactly that in San Francisco. The only difference is that Jimmy Garoppolo is not Tom Brady — and he never will be.
The systems are the same and the personnel is very similar, but the 49ers passing game doesn't find the same success because of the man under center. And that isn't a knock on Garoppolo either.
Nobody is Tom Brady and nobody ever will be.
The 49ers still have a problem with their receivers and, in turn, their passing game. And with Sanders potentially set to miss some time, the options become even thinner.
Unless somebody steps up in the coming weeks, the 49ers may ultimately be held back this season because of their lackluster passing attack.