Warriors: 'Baby Dubs' give hope for a brighter future even in a dark season
The Golden State Warriors are in the midst of a difficult season. But the so-called 'Baby Dubs' give the franchise plenty of hope for the future.
The Golden State Warriors aren't going to win many games this season. Put plain and simple, that's just the way it is.
But amidst a season of anguish and heartbreak, the appropriately named 'Baby Dubs' provide hope for an organization desperately in need of optimism.
The Warriors returned home to Chase Center on Friday night to take on the surging Boston Celtics. This was a team that had won their last nine games and entered the night with the NBA's best record. On the other hand, the Warriors were on the opposite end of the spectrum.
After dominating the NBA for over half a decade, it appears as though the Warriors reign of terror has finally come to an end.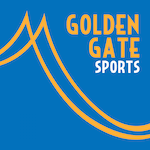 Want your voice heard? Join the Golden Gate Sports team!
Write for us!
They lost Kevin Durant to a torn Achilles and then to an offseason trade. Klay Thompson remains out with a torn ACL and he may not play this season. And Stephen Curry is sidelined with a broken hand suffered very early in the season.
This isn't the Golden State Warriors that we've become accustomed to. These aren't the 'Dubs.' Rather, these are the 'Baby Dubs.'
And those so-called 'Baby Dubs' filed into Chase Center on Friday night and gave the previously 9-1 Celtics all they could handle. They may not be as talented, they may not be as experienced, but man do they play with heart.
For a significant portion of the game, the Warriors were actually in the driver's seat including a shocking 32-23 margin after 12 minutes and a fourth-quarter lead. And even when they weren't leading, the Warriors hung tough and never let the game get out of hand.
Again, this was arguably a matchup of the NBA's best and worst teams. But somehow, someway, the Warriors looked like worthy adversaries to their opponents. This wasn't the one-sided slaughter than many thought it would be.
This was a back-and-forth chess match between two evenly-matched teams. At least, that's how it was for that one night.
The 'Baby Dubs' were plucky, feisty, and confident as their energy ignited the home crowd in San Francisco. Those fans didn't come to the arena that night to see the usual star-studded lineup of All-Stars play.
Instead, they came to see the future of Warriors basketball.
Second-round rookie Eric Paschall continued the stellar start to his NBA career finishing with 16 points and 8 rebounds in 33 minutes. Paschall has gone from solid, but underwhelming second-round pick to a legitimate building block for the organization.
Paschall has been joined by young understudies and veteran cast-offs in a Warriors lineup more reminiscent of the late-2000's/early-2010's than the NBA Finals rosters of recent years.
Minimum salary players like Alec Burks and Glenn Robinson III regularly receive 25+ minutes per game. Unpolished rookie Jordan Poole has struggled but continues to see plenty of playing time.
Even undrafted two-way player Ky Bowman is receiving regular rotational minutes and could see time in the starting lineup again following yet another injury to D'Angelo Russell.
These 'Baby Dubs' have managed to transform what could have been a dreadful, lethargic season into something worth watching. The team is young, energetic, and fun and it clearly resonates with the home crowd.
Sure, there will be frustrating moments in a season ripe with growing pains.
Poole is still finding his footing as a shooter. Russell continues to turn the ball over at an exceptionally high rate. And winning the rebounding battle has proven more difficult than anyone could have imagined.
And the less said about the team's defense, the better.
But for one night against a premier team like the Celtics, many of those issues went away. Yes, Poole still struggled and Russell still turned the ball over. But the Warriors managed to win the rebounding battle and play impressive team defense for the first time in a while.
The 'Baby Dubs' are making strides towards improving — and that's more important than winning a mid-November game in a lost season.
The Warriors aren't going to win many games this season. But the few that they do win will feel like monumental achievements. Those victories will be more impactful than any regular-season victory over the past five years.
And truthfully, they may feel more meaningful than some recent postseason victories.
The 'Baby Dubs' won't see many 'Dubs' this season. But in the meantime, let's just have some fun.