San Francisco 49ers: Full seven-round 2019 NFL mock draft
The San Francisco 49ers will go into the 2019 NFL Draft with a lot of needs but some serious draft capital. Here is a complete seven-round mock draft for the 49ers.
The 2019 NFL Draft is drawing near and the San Francisco 49ers are undoubtedly looking forward to the three-day NFL spectacle. The team will look to the draft to fill their many roster needs ahead of the 2019 season.
And they certainly do have plenty of them.
With so many needs, it can be hard to address everything with just six picks, but the 49ers will need to make use of their three top-70 selections to fill some of their biggest holes. The team went out an traded for Pro Bowl edge rusher Dee Ford but still needs some help at edge rusher.
Elsewhere, the 49ers are still incredibly thin at wide receiver and in the secondary. It will be up to the team to address those significant needs in the draft if they want to have more success in 2019.
Of course, having key starters like Jimmy Garoppolo and Jerick McKinnon back will help. But the 49ers dreadful 2018 campaign can't solely be blamed on injuries, even if the Garoppolo one was obviously a significant blow.
Now with some high picks in the 2019 NFL Draft, the 49ers have ample opportunity to improve their roster and get back to the playoffs next season. After an underrated free agent signing period, there are simply no excuses anymore.
Using The Draft Network's Mock Draft Machine, here are the results from our most recent 49ers mock draft.
Nick Bosa
Edge Rusher,
Ohio State

If league-wide speculation is to be believed, the Arizona Cardinals are almost a lock to take quarterback Kyler Murray at No. 1 overall. And that's exactly what happened in this mock draft simulator. If Murray is to be selected first, there should be no question about who the 49ers take.
It's Nick Bosa.
There are some who prefer Alabama defensive lineman Quinnen Williams and others who prefer Kentucky edge rusher Josh Allen. Others might even want San Francisco to trade back. But in a mock draft with no trades, the obvious selection must be the one that is made.
Williams is an elite prospect — one of only two or three in this year's class — but the 49ers don't need the interior pressure as much as they need a true presence on the edge. Although it would be scary to pair him up inside with budding superstar DeForest Buckner.
Allen is an exciting playmaker but simply isn't as refined as a pass rusher as Bosa is. With under a month until the start of the 2019 NFL Draft, now isn't the time to overthink things.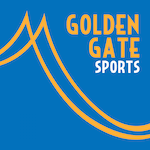 Want your voice heard? Join the Golden Gate Sports team!
Write for us!
Bosa has been and still is the consensus top prospect in this year's draft class by most analysts. The Ohio State product is as polished of a pass rusher as they come with ample athleticism and strength to dominate at the next level.
The term "can't miss prospect" tends to get thrown around too often, but there is no prospect in this class it applies to more. Bosa is about as complete of a prospect as they come with no real weaknesses or issues to speak of. Perhaps the only concern is that he's primarily played in a 4-3 defensive end role, but seeing as that perfectly fits the 49ers scheme that shouldn't be an issue for the team.
Don't overthink this pick. Bosa is the clear-cut top prospect in this class and he must be the pick at No. 2 if he's on the board.