Oakland Athletics Extension Candidate: Khris Davis
The Oakland Athletics have an exciting nucleus of players, and now is time to make sure Khris Davis is included in the franchise's future plans.
Actual contests have yet to start, but it is officially 2019 Spring Training and in turn, extension season. With rumors swirling of superstars Jacob deGrom and Nolan Arenado engaging in extension talks, the Oakland Athletics have their own big fish to reel in.
The A's are not known as a team that locks up its players long-term. They are in fact, as many know, famous for the exact opposite — trading away players with waning club control for prospects.
The most recent players to receive extensions from the A's were Coco Crisp and Sean Doolittle, both in 2014. Neither deal made huge headlines, however, as Crisps' was for only two years guaranteed, and Doolittle was not yet the elite reliever he is now. As it stands today, the largest extension — and contract in general — ever handed out by the A's was the six-year, $66 million deal Eric Chavez inked way back in 2004.
But if there was anyone for the A's to consider signing long-term, it is slugger Khris Davis. "Khrush" has done nothing but live up to his nickname since he was acquired from the Milwaukee Brewers in 2016, providing Oakland with three straight seasons of both 40 plus homers and at least 102 runs batted in.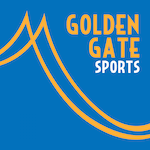 Want your voice heard? Join the Golden Gate Sports team!
Write for us!
Davis also seemingly enjoys playing for the A's and has embraced the city of Oakland since his arrival, evident by recent comments (via AP News' Janie McCauley).
"Shoot, I want to stay here at least three more years, but that's a long time to be an Oakland A. But if anybody can do it, I guess it's me, hopefully," Davis said. "I don't think they'll trade me as long as we're doing good. So we better do good so I don't get traded."
Davis obviously has a sound understanding of how the A's operate, but he is correct. If anyone can be signed long-term, it is him. The A's are always on lookout for good deals, and now might be their best time to strike.
For one, free-agents, especially those on the wrong side of 30, are being dissected and analyzed more than ever before. What does that mean for Davis? Well, he will be 32 heading into 2020, and offers virtually nothing in the way of defense as it is already. So it can be figured that his market would include almost exclusively American League clubs (unless the oft-discussed universal DH is adopted, but that's an entirely different conversation).
On top of a somewhat limited market, power does not necessarily pay like it used to. Last off-season, Logan Morrison and Mike Moustakas, who each hit 38 homers in 2017, both settled for one-year deals worth $6.5 million guaranteed. Flash forward to this off-season, and not a lot has changed.
Moustakas once again has signed a one-year deal. C.J. Cron was designated for assignment by the Tampa Bay Rays following a 30-homer season, and subsequently signed a deal for less than $5 million with the Minnesota Twins. Continuing with the Twins, Nelson Cruz signed for one-year and $14.3 million guaranteed — much less than the two-year, $30 million contract mlbtraderumors.com predicted — and while he is 38, he has shown no signs of slowing down.
These recent contracts give a good idea of Davis' potential earning power, and none are outrageous in any sense. Davis has also specified to the media that he would like to stay in Oakland for at least another three years. Given this, would a deal in the realm of three years and $40-45 million — give or take some — be fair for both sides?
According to the market, that would in fact be a relatively fair price for both parties. Davis would receive the security every player desires, which is becoming harder to achieve, and the A's would not be tied down with too much money for too long.
There would also be an added benefit if an extension were ultimately agreed upon between Oakland and Davis, as it would go a long way in convincing fans that the organization is committed to holding onto its players. Now is the time for the A's to commit to their talented core, and retaining Davis would be a step in the right direction.