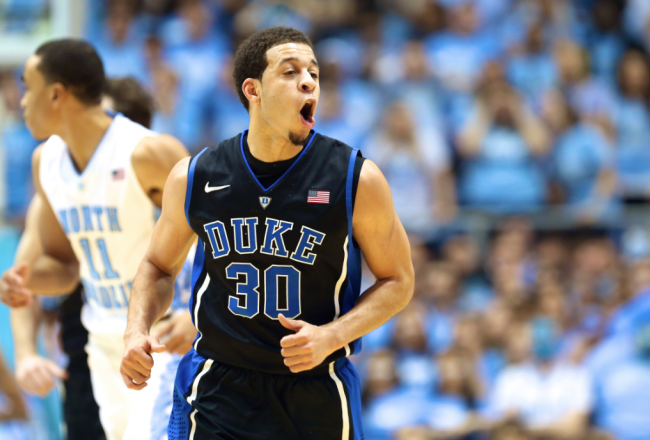 The Curry name. We all know it. He's the guy that hits 3-point shots, drives to the basket, and dazzles us with his incredible shake-and-bakes that keep defenders on their heels and sometimes sends them to the ground. But wait, there's another one! Another Curry, you say? Great?
Perhaps not.
Before you, as a fan, get excited about the Warriors having Seth Curry on their roster, stop, think, and analyze. Is Curry really what they're looking for right now? The only person on the Warriors' roster who doesn't have a shooting touch is Andrew Bogut, and he's a center. Other than that, every other player can knock down a 15-footer. Seth Curry can also do that.
In simple terms, Curry is another Klay Thompson, except not quite as good. The Warriors recently signed Curry to a deal that will likely make him an undrafted rookie for the 2013-2014 season. What exactly are they going to do with him? Is he going to be another player who sits on the bench?
Considering that the Warriors are one of the most offensively equipped teams in the NBA, I think that's exactly what Curry is going to do. The Warriors are giving him a shot here, but what will it really accomplish. We all know Kent Bazemore, the cheerleading rookie of the 2012-2013 season. Now, he's going to be getting some playing time and will be a useful signing for the Warriors. Curry, however, will be in Bazemore's shoes and will therefore do nothing to help the team.
He won't exactly be useless, but he will be one of those players who gets the occasional jump-shot off the screen, or a 3-pointer. I'm sure Stephen Curry has a say in whether the Warriors use him or not, but ultimately, the say is within Seth Curry himself.
Stop:
What did the signing accomplish? Before the Warriors and their fans get excited about a new acquisition, think about what he's really going to bring the team. From what I see right now, he's another offensive piece, which the Warriors have an abundance of already. He may be in there to give Thompson a rest, but not much else. He'll be lucky if he sees playing time every contest.
Last season with Duke, Curry averaged 17.5 points per game, which is surprisingly high for someone who didn't get drafted. It's unfortunate, yes, but there's nothing else that can be done about the fact that he wasn't drafted. It may be coincidental that the Warriors picked up the brother of their top player. He may get the deal, but it won't be because he truly has something to offer the Warriors.
Think:
Do the Warriors have enough spots for him? On paper, they obviously have room for him on the roster, but in the rotation, he may not see any daylight. If this is the case, I wouldn't be surprised at all. Just because his brother is a Warrior god doesn't mean that he will be. He may be a good shooter, but what else can he bring the team. His playing style is more like Del Curry's, who was a catch and shoot player.
If he were to see some playing time, he would overtake Bazemore for the backup role behind Thompson. Bazemore, however, showcased his skill in the Summer League and dazzled all. The only other players averaging numbers like his were top picks. With more playing time, he will surely shine as one of the Warriors' role players. Giving any of his deserved time to Seth Curry wouldn't be fair at all.
Curry is not a bad basketball player. He's better than average, but right now, there aren't any real slots for him on the Warriors' roster. Unfortunately for him, he will be the Kent Bazemore of the 2013-2014 season, never getting a chance to showcase his skill. By chance, if he does earn some decent playing time, props to him.